August 29, 2021
LAST MINUTE NEWS: Minister of National Defense Akar and TAF command level at the Greek border
last minute "data-mce-href =" https://www.ntv.com.tr/son-minute "> Breaking news Minister of National Defense Hulusi Akar accompanied by Chief of General Staff Yaşar Güler, Commander of the Land Forces General Musa Avsever arrived in Edirne with the Commander of the Naval Forces, Admiral Adnan Özbal, and the Commander of the Air Force, General Hasan Küçükakyüz.
Akar, who reviewed the measures taken at the Greek border, and the level of command of the TAF were accompanied by the governor of Edirne Ekrem Canalp and the commander of the 1st army, Lieutenant-General Kemal Yeni. Minister Akar and the commanders then visited the border division of Arda at the border zero point.
Akar, who received the extension of the border, handed the Turkish flag to the company commander. The company commander kissed the flag that had been entrusted to him and took delivery of it. While chatting with Mehmetçik, who was on guard at the border, Akar examined the Greek border through binoculars.
Later, meeting with Mehmetçi in the border division, Akar said the TAF has done everything that needs to be done for border security, and will continue to do so from now on.
Emphasizing that Turkey is in favor of solving the Aegean Sea problems in accordance with international law, in good neighborly relations, through political means and methods, through dialogue, Akar said: "We wish that the peoples of both countries live in prosperity and enjoy the wealth, we aim for this, but we find it difficult to explain it.
Recalling the mutual positive dialogue on cooperation in combating forest fires, Akar said:
"We expect everyone, especially the leaders of our neighbor Greece, to be equally important for the peoples of neighboring countries to have good relations with their neighbors. But unfortunately, we are constantly confronted with provocations, illegal aggressive actions and rhetoric from Greece. They constantly use threatening language against Turkey. They are making demands as if they are the sole owners of the Aegean Sea, and they are trying to arm all the islands. Ignoring their actions and rhetoric contrary to international law, they constantly make statements and provocations accusing Turkey. We have said on every occasion that this attitude of the Greek soldiers and politicians is very bad and that it is incompatible with good neighborly relations. "
"EVEN IF THEY ARE COVERED IN LAMB SHIRTS …"
Stating that Greece's demands are far from reality, Akar said, "We are patiently waiting for Greek politicians and soldiers to understand that this is not beneficial to anyone and that they are not going anywhere, even if they are. dressed in sheep. They take on certain roles and disrupt peace and harmony with claims based on lies. This lack of sincerity on the part of Greek politicians and soldiers is the main source of the problems here. Akar also addressed the issue of Islands, Islets and Rocks (EGEAYDAK), whose sovereignty has not been transferred to Greece by agreements, and said:
"While we wait for this issue to be resolved through peaceful negotiations, ways and methods, our Greek neighbors are trying to belong. They try to turn these events in their own direction with a certain fait accompli. There are Lausanne and Paris agreements. There are some things we need to do in this framework. Some islands should not be armed, they should be demilitarized. Although these are very clearly present in the agreements, our Greek neighbors inexplicably constantly do their best to violate the agreements, thus disrupting peace and stability. Although 23 islands are clearly indicated in the agreements, they are arming 16 and they consider this lawful. It is not possible to accept that. "
Asking why and against whom these islands are armed, Akar said: "They must see that the answer to this question is by no means logical."
"DATE ​​DISPLAYED"
Stating that portraying Turkey as a threat is extremely contrary to the natural course of life and to the facts, Akar said:
"It cannot be accepted. It is also an indication that the Greek rulers failed the test of sincerity. This position, which wants to "reduce the international waters of the Aegean from 48% to 20%, and own more than 70% of the Aegean", is indeed an extremely ambitious and dangerous approach. We expect this to be seen by the Greek leadership as soon as possible. Nowhere in the world, neither today nor in history, has an island ever had 6 miles of territorial waters and 10 miles of air space. It does not exist. But our Greek neighbors claim it. They are doing their best to limit Turkey's movements and limit all of its movements, claiming to claim both sea and air space with unprecedented demands. However, history has shown that it is not possible to go anywhere this way, and they should see it very clearly. We want them to know that we will not violate or extort our rights and laws in any way. "
Pointing out that Greece, which claims to be peacemakers, harassed ships carrying out technical and scientific research in the international waters of the Aegean Sea, and even planes only carrying out training missions, Akar continued as follows. :
"They insist on blaming Turkey without seeing what they are doing as an offensive act. They do not hesitate to present the drone, which we use in TRNC for completely peaceful and humanitarian purposes, as a threat. Moreover, one of the immoral and unseemly good neighborly relations of our Greek neighbors is to try to present the problems between the two countries as Turkey-USA, Turkey-EU problems. They believe that by acting in a spoiled manner, they will get the US and the EU behind them and so they can win against Turkey. So wrong. We expect them to come back from this error. Greece should see that with its expansionist attitudes and approaches and provocative behavior, these policies are far from mathematics, reason and understanding, and mean nothing but the pursuit of empty dreams. On the one hand, they are embarking on an arms race trying to allocate large sums of money, on the other hand, they claim to be in serious debt. The Greek people pay the price for the mistakes made, their well-being and their future are in jeopardy.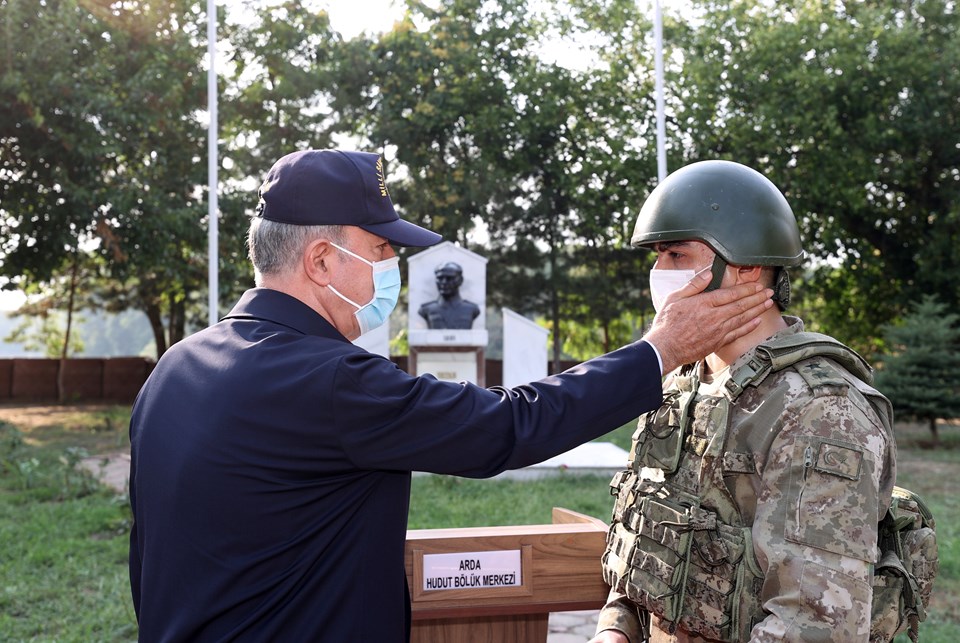 "HUDUT HONOR"
Stating that they aim to ensure peace and stability in the region, to ensure that the Turkish and Greek peoples live in comfort and peace, and to increase their well-being by using the opportunities available, Akar said:
"We want it, we say it. They must never forget that Turkey is not a threat to anyone, it is a strong, reliable and effective ally. Everyone should put this in their heads. Despite all our efforts. good intentions, we will not allow a fait accompli in any way. Everyone should know that we will not violate our rights or those of our Cypriot brethren. As the Republic of Turkey, as the Turkish armed forces, we are determined and determined to protect the rights, interests and interests of our country and our nation, thank goodness we are able to do that too. "
Mentioning border security, Akar stressed that the TAF is performing its duty heroically and altruistically with the understanding of "The border is honor" and said, "Mehmetçik, you have fulfilled them with great heroism and selflessness. You have made it clear that you are truly worthy of this nation. The efforts of the Mehmetçi at the borders, on the one hand, show that they are ready to shed blood when necessary, with the understanding of 'martyr if we die, veteran if we stay', he said. he says.
"CONTRACTING LAW AND HUMANITY"
Stating that the refugee problem should not be Turkey's only problem, Akar said:
"We expect everyone, especially the EU, to take responsibility for this issue. We have done our best and continue to do so. We have made and are making all kinds of sacrifices, material and spiritual. Likewise, our neighbors and the EU should show the necessary sensitivity in this regard. He must put his hands under the stone.
It is truly unacceptable that Greece pushes back refugees and inhumane practices in this regard, even letting them die.
While we make great sacrifices to ensure the safety of 5 million refugees in northern Syria and 4 million refugees in our country and to meet their humanitarian needs, it is not really possible to accept the inhumane measures taken by Greece against the arrival of 3-5 people. It is against the law and against humanity. These questions have already been brought before the ECtHR. Greece should also review its measures.
Pointing out that Greece has been protecting many terrorists, including members of FETO, for years, Akar said: "At the same time, it is not credible and unethical that the Greek administrators who do these things seem to complain about the spread of terrorism, fanaticism and fundamentalism. "It is a very hypocritical attitude that does not reflect the facts," he said.
Emphasizing that they are doing their best to bring peace to Cyprus, Akar said: "Our solution is two sovereign, equal and independent states. There is no more going back on that. Whatever work needs to be done on this, we have to do it and make sure the parties are at peace, "he said.