July 16, 2021
President Erdogan: Our success in Libya has made the cards shuffle around the world
President Recep Tayyip ErdoganAttended the 8th Term Headquarters Officer Graduation Ceremony and 3rd Term Command and Staff Training of MSU Force War Institutes at Atatürk National Defense University (MSU) Wargame and Culture Center in Istanbul.
Congratulating the officers who completed their training in his speech here, President Erdoğan said 240 officers, including 80 guests from 17 different countries, have graduated.
Stating that the National Defense University, which was established after the July 15 coup attempt, has quickly become a strong military educational institution, Erdoğan said, "Our university is currently continuing its educational activities with 1110 guests and 16,382 students in 5 different cities. . 23 thousand 167 officers and non-commissioned officers graduated, including guests, "he said.
Teacher. Dr. MSU, who created MSU and brought it in today. Dr. Thanking Erhan Afyoncu, Erdoğan stated that they were and will continue to be with MSU, which conducts strategic, scientific and cultural activities as well as meeting the human resources required for TAF at the officer and NCO level. .
"WE ARE GOING TO A NEW LEVEL IN THE MILITARY FIELD"
President Recep Tayyip Erdoğan said that every officer and non-commissioned officer graduated from the faculties and institutes of the university and joined the TAF increased the army's strength and continued his speech as follows:
"Turkey is a country that not only has one of the most entrenched armies in the world, but also has the oldest staff training system in place. This year, we are celebrating the 2,230th anniversary of the establishment of our Land Forces Command. It's easy to say. . Some of our institutions are birthdays in modern times. Although the history of the Turkish armed forces is very old, many institutions in our history are the inspiration or the copy of the institutions that the Westerners brought to us in modern times. Now we are moving to a new level in the military field, as in all aspects of politics to economics. At this new level, the Turkish armed forces It is of vital importance for Turkey to achieve the strongest possible position in terms of both its human resources, the quality of education and facilities. Despite the losses caused by the Guardianship Centers for a period and the FETO traitors for a period, we have come a long way in this direction.
"THE SUCCESS OF OUR MILITARY HAS A BIG PART IN THE GROWING CONFIDENCE OF OUR NATION IN THE COUNTRY"
Emphasizing that the distance Turkey has traveled in defense industry technologies over the past 15 to 20 years is an achievement that the whole world is closely following and taking as an example, Erdoğan said, "We are seeing the same success. in the area of ​​officers and non-officer training at our National Defense University. The new associated models are also working quite satisfactorily. " mentionned.
Stating that TAF made legend after legend with its performance in protecting borders, carrying out cross-border operations and supporting friendly and brotherly countries, Erdoğan said:
"The success of our army has a big part in increasing our nation's confidence in its country. Of course, while the system and the technology are important, we are also aware that the human being is at the heart of the matter. The nation has managed to constantly renew, grow and develop itself through its penchant for military service and its organizational structure.The unbroken states that we have established throughout the history chain are the product of Even the 600-year-old Ottoman plane tree on which we built our republic is enough to provide the motivation to sustain a nation for thousands of years. Its traces date back to antiquity, saluting Africa, including the he history stretches from all of Asia to the depths of Europe. It is the place where the fate of a nation which regards the American continent as a brother has long been linked, it is Anatolia, the Turkey. If Turkey is strong, there is pride and joy in all of these geographies. If Turkey is strong, it is for all the oppressed and victims wherever they are in the world. there is a way out. If Turkey is strong, there is hope for every brother who moans under the oppression of the oppressors. One of the most important pillars of Turkey's firm stance are the military struggles and the victories it has achieved. "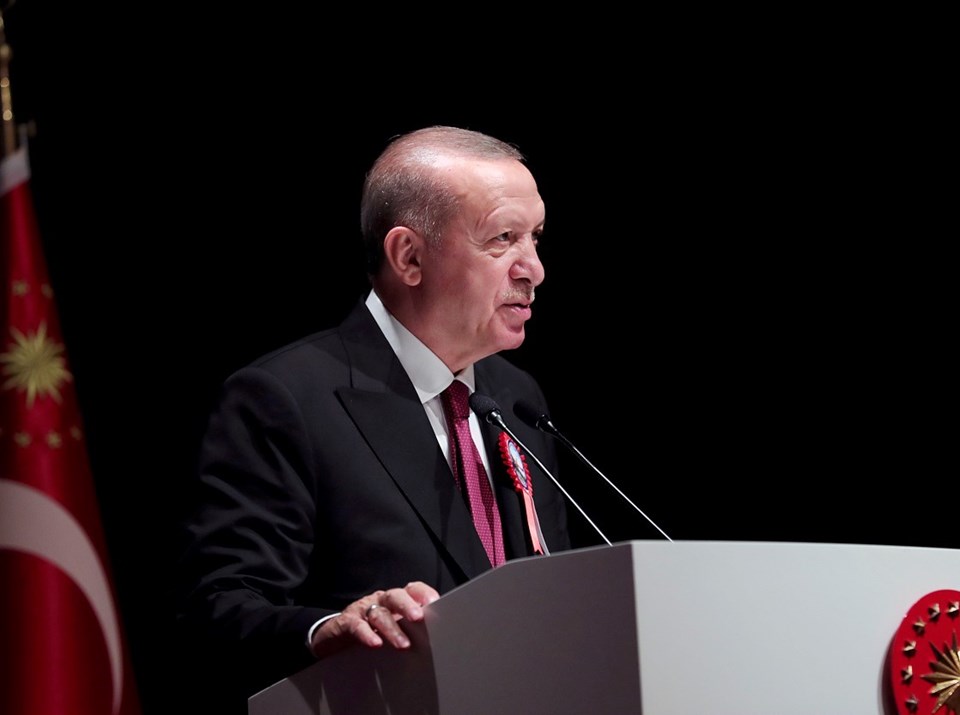 Erdoğan said the heroic soldiers not only saved the lives of Turks in Cyprus almost half a century ago, but also showed that they can shake the ashes on this nation even under the most difficult conditions.
"WE HAVE NO EYE ON ANYBODY'S EARTH"
Expressing that despite all the traps and tricks played in the nearly 40-year struggle against terrorism, the astute position displayed is a sign that it can be achieved again, and said:
"The determination and success we have achieved in gaining the upper hand over the PKK and DAESH assassins who have taken steps to divide our country beyond our Syrian borders have completely changed the game. Our success in the diplomatic and military fields in Libya is not limited to the Mediterranean. , but also around the world. All eyes are on us again, with the support we have given to our Azerbaijani brothers in the liberated Karabakh struggle and the victory in just 44 days. I hope that we are now preparing our brothers who want to walk with us in other geographies. I openly express that we have no eyes for the land, sovereignty, unity and solidarity of anyone. We only listen to the calls of the imperialists and our brothers who groan under the persecution of incompetent regimes and terrorist organizations that have become their toys, and assume our historic responsibility to them. upset.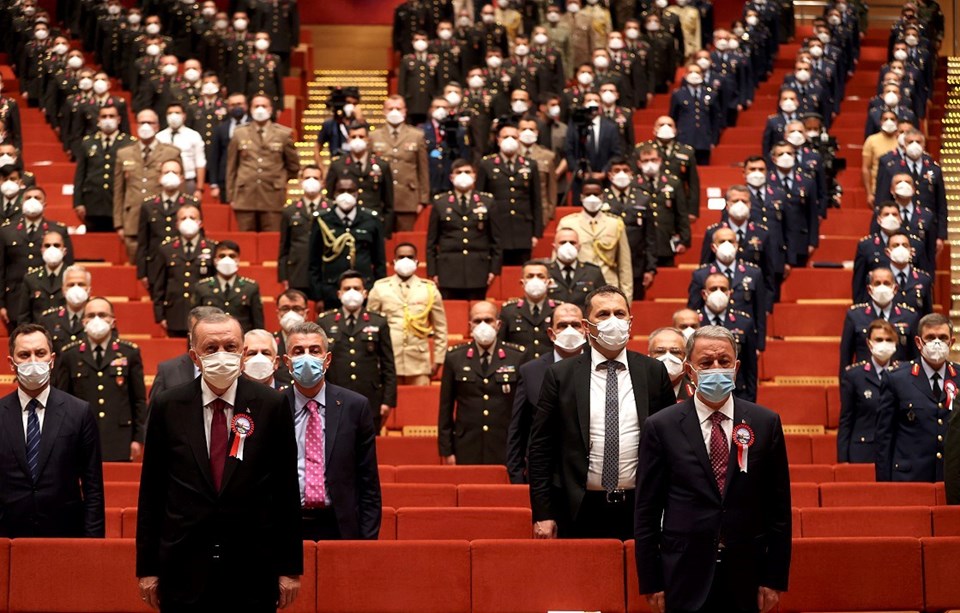 " WHERE IS THE TURKISH, THERE IS CONFIDENCE AND PROSPERITY "
Unlike those who come from thousands, tens of thousands of miles and shed blood for their own political and economic interests, their security and welfare concerns, we are going to keep them alive. Where there are Turks, there is no oppression. Where there is a Turk, innocent blood does not flow. Where there are Turks, the oppressed do not shed tears. Where there is a Turk, there is only confidence, peace and prosperity. No example can be cited to the contrary. For this reason, our nation always prays that the victorious soldier of his army will be glorious and his country will be strong. You, our graduating officers today, will command such a glorious army at your posts. I say my Lord be your help and your help. "
"TODAY HE IS IMPLEMENTING HIS OWN POLICIES IN THE TURKEY REGION AND IN THE WORLD WITH HIS HEAD"
President Erdoğan, in his speech, said that Mehmet Akif Ersoy's words, "The man bought a part of the past, what a fairy tale / Did he give a half of the story of five thousand years / They describe history as 'repetition' / If a lesson were taken, would it repeat itself? "" Our duty is to draw the necessary lessons from what we have experienced in history, to draw the necessary lessons , and to avoid repetitions, "he said as he read his lines.
Erdogan said: "Turkey has launched various democracy and development movements in the most critical periods in the history of the Republic. When we look at how these movements were interrupted, we see that some of them are very simple personal calculations, some of them are visionless, and some of them are much more troublesome. For some reason. "Either way, every opportunity we missed has cost us as a country and as a nation. The cost of the wounds our democracy has inflicted has reached the point where our national unity and solidarity are threatened." , did he declare.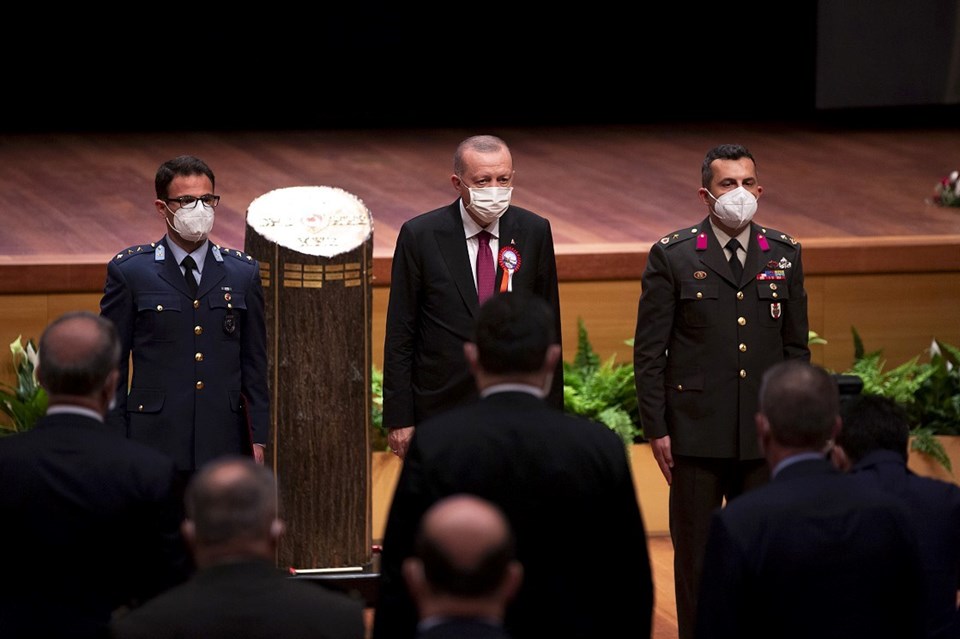 Stressing that the cost of development regression is not only poverty, but also a bottleneck in all areas, from industry to commerce, Erdoğan concluded his remarks as follows:
"The aim of those who condemned our country to only 3-5 agricultural products, 3-5 mines and 3-5 low value added products was in fact to block our future and our independence. Thank goodness Turkey has succeeded in breaking this vicious circle. as a result of great efforts, struggles and sacrifices. First, democracy and we made our development movement successful, and we broke the chains that were placed on our freedom during the process of struggle, which was the peak of July 15th. Today Turkey conducts its own policy in its region and in the world with its head held high, and this is how it is most powerfully represented on the ground and at the table. We cannot thank him enough for doing us the honor of leading him to a historic turning point. Despite all the attacks and injuries it suffered, first by the Guardianship Centers and then by the FETOist traitors, our heroic army reached its true strength, potential and vision in a very short time. Reaching Our Country 2023 Targets, Our determination to bring the Vision of 2053 to our children and the Vision of 2071 to our grandchildren is further reinforced by the photograph that appears with every step we take. As one of the most important elements of this great picture, I see each of the officers and NCOs trained by our National Defense University as a light that illuminates our future. Once again, congratulations to our officers who graduated today. I wish our former guests to convey our greetings to all friendly and brotherly peoples when they return to their countries.
Download the NTV app, stay informed