June 10, 2021
Roland-Garros 2021: Novak Djokovic wins after Parisian supporters boo the 23h curfew
Novak Djokovic staged a Roland Garros semi-final with Rafael Nadal, beating Italy's Matteo Berrettini in a game that was put on hold to ensure fans could leave before an 11pm curfew in Paris.
Serbian Djokovic won the first two sets, leaving him on track for victory in front of the 5,000 fans allowed to watch the night session.
Berrettini won a tie-break in the third set, forcing an exodus greeted with loud boos.
When the players returned, Djokovic took a 6-3 6-2 6-7 (5-7) 7-5 victory.
The final stages of the match unfolded in eerie silence, like the matches the night before of the tournament, after initially taking place in front of an exuberant crowd.
That stillness was interrupted, however, by Djokovic's manic celebrations when he took his third match point. With his wide eyes and his fists hitting his chest, the world number one roared his joy at passing.
The victory ensures that Djokovic will renew his lasting rivalry with Nadal, who is aiming for a record 14th title at Roland Garros.
The pair will meet for the 58th time in their illustrious careers, with the winner facing Greece's fifth seed Stefanos Tsitsipas or Germany's sixth seed Alexander Zverev in Sunday's final.
Nadal, 35, is still considered the favorite to clinch the trophy, which would be a 21st Grand Slam triumph and move him away from Roger Federer for the first time in terms of men's majors.
Djokovic, 34, has two delays on Nadal and Federer after winning his 18th Grand Slam at the Australian Open in February.
Why did the fans have to leave?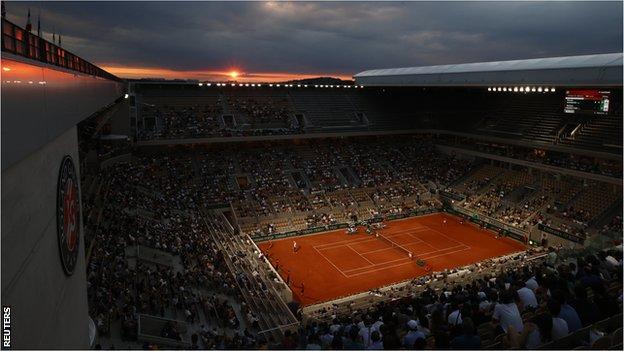 Much like there had been in Nadal's afternoon game on Wednesday, there was a good mood on Chatrier when Djokovic met Berrettini at the first Roland Garros night session to get fans.
Previous matches staged in the spotlight had all been played behind closed doors due to a 9 p.m. curfew imposed by French coronavirus restrictions.
Rules were relaxed on Wednesday, allowing more fans – up to 5,000 – to watch Chatrier than before throughout the tournament.
But, shortly after Berrettini once again provided the competition for Djokovic and the fourth set was delicately prepared, the players left the pitch as spectators were sent off in order to adhere to the newly extended 23-hour curfew. .
"I didn't mind leaving the pitch because I felt like I needed a little break and a reset," said Djokovic.
"It's unfortunate for the tournament, for the crowd, to have this curfew. But we knew it before the game."
Questions were asked as to why the French Tennis Federation decided to start the match not before 8:00 p.m. local time (7:00 p.m. BST), when there was a gap of nearly two hours after the victory ended. by Nadal on Diego Schwartzman.
"I would like to know why they started the game so late," former UK number one Annabel Croft said on BBC Radio 5 Live Sports Extra.
"It didn't suit anyone. It's strange now – the complete opposite of the atmosphere the two were playing in. Berrettini, in particular, was feeding off the energy of the crowd."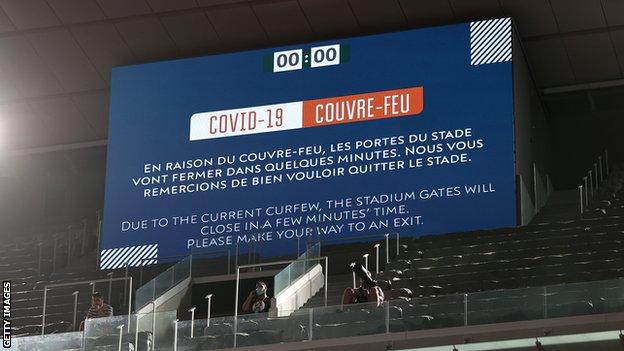 Djokovic puts the delay behind him to secure victory
Initially, there was a crackling atmosphere as 2016 champion Djokovic tried to follow Nadal by once again asserting dominance against a younger opponent.
Berrettini, 25, had not played since Saturday – due to a forfeit following the withdrawal of Federer, 20-time Swiss major champion to protect a knee injury – and attempted to make a quick start in an effort to destabilize Djokovic.
On Monday, Djokovic was trailed by two sets in his fourth-round match against fellow Italian Lorenzo Musetti before retaliating to lead in the fifth set when the teenager retired.
Berrettini created breakpoints in Djokovic's first two service games but, after the Serbian dodged them and broke for a 3-1 lead, there was little chance of him making a repeat.
Djokovic saved another breaking point on his way to a 5-2 lead in Game 1, continuing to play with precision and efficiency as he took a straight-set advantage.
The third set was much closer as both players remained relatively serene on serve, with the Parisian crowd adding to the entertainment by creating Mexican waves and chanting the Italian's name.
Djokovic described the atmosphere as "like Davis Cup".
"It was a lot of fans involved, every point cheering, shouting. Just an electric atmosphere there," he said.
"I'm glad I had this experience of playing in front of the crowd in the night session."
After battling a breaking point that would have left Djokovic in service for the match, Berrettini's stoicism was rewarded with a tie-break that would decide whether the match would be over before the 11pm curfew.
The Italian didn't look like he was breaking Djokovic's serve but made sure there would be a fourth set with the help of two unusual errors from the Serbian in the net while he had a pair service points for the match.
The end of the set at 10:30 p.m. led to a warning from the stadium announcer about the impending curfew, prompting boos from supporters, though few seemed in a rush to leave.
Someone who also didn't want them to leave was Berrettini. Feeding off the support of the crowd had helped him to take a setback and, after losing serve in what turned out to be the last game of the game, he said it was "a shame" that they had had to leave.
"It's something I didn't like. I could feel the momentum. I was playing well," added the Italian.
"Stopping was not the best thing in my opinion for my tennis, but I had to take it. I also think that physically it didn't help me. I came back to the court and I didn't feel good."