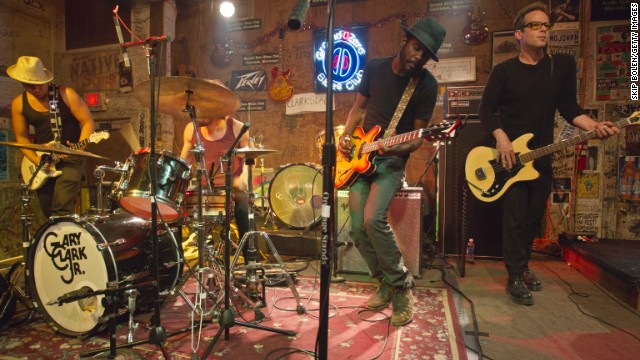 Blues music permeates the Mississippi Delta. Struggles with slavery, segregation, civil rights and poverty in this stretch of the South go hand in hand with the woeful tunes. Guitarist Gary Clark Jr. is shown here performing in Clarksdale.
---
Editor's note: World-renowned chef, best-selling author and Emmy-winning television personality Anthony Bourdain has returned for the third season of "Anthony Bourdain: Parts Unknown." The series, shot entirely on location, airs on CNN on Sundays at 9 p.m. ET/PT. Follow the show on Twitter and Facebook.
The Mississippi Delta is a storied region that sets the standard for all things Southern, good and bad.
The hospitality can be effusive, almost overwhelming, and the food is delicious and more varied than the usual deep-fried clichés. King Cotton sprouted from the fertile farmland that still dominates the region, as did the hard-luck chants of the field workers that evolved into America's original music form: the blues.
But the Delta has another, less kindly reputation. The Civil War and the civil rights struggle left deep wounds and, even today, some of America's most brutal, entrenched poverty and racism thrives here.
Agriculture jobs have been drying up since mechanization replaced human labor, and foreign competition continues to drive out other local industries. Since 1940, the Delta's population has shrunk by nearly half.
Yet for all its woes, visitors flock here from all over the world to soak up the raw authenticity  in rollicking juke joints, plate-lunch cafes and boarded-up towns with markers revealing the stories of blues legends, civil rights heroes and history-making moments that changed the nation.
Living in the Delta is hard. Touring it is easy as long as you're not shy about asking the insiders you meet along the way for tips. They're always happy to share, and they will often bend your ear with colorful stories for as long as you've got the time to listen.
Here are 10 things to know about the Delta:
1. Geography shapes the culture.
This leaf-shaped section in the northwest quadrant of Mississippi is bordered by the Mississippi River to the west and the ridgeline of hills to the east, just beyond the Yazoo River. The delta is formed by the confluence of the two main rivers just below Vicksburg.
The Delta essayist David Cohn summed up his native region more prosaically when he wrote that "the Mississippi Delta begins in the lobby of the Peabody Hotel in Memphis and ends on Catfish Row in Vicksburg."
A 250-mile stretch of Highway 61 — also known as the Blues Highway — connects these two landmarks: one a legendary plush hotel, the other a riverbank once occupied by shacks that have since been replaced by a children's park. Those north and south endpoints also represent opposite ends of the social spectrum: the very wealthy white planters and the very poor black laborers.
This economic gap has always been part of the region's identity. Rather than disguise it, Delta leaders have put that painful past out for the world to see.
The gravesite of Fannie Lou Hamer, who fought for African-Americans' right to vote, has been turned into a historic site.
The Emmett Till Memorial Commission of Tallahatchie County offers a driving tour of the events surrounding the 1955 racially-motivated murder of a 14-year-old African-American boy accused of whistling at a white woman. The courthouse in Sumner, where an all-white, all-male jury found two white men not guilty of the killing, will soon be opened as a museum in the victim's honor.
2. The Mississippi Delta's unofficial capital is in Tennessee.
Memphis, which stands on a bluff just across the Mississippi state line, was built on the cotton fortunes from the rich farmland to the south. It's the logical place to begin a Delta adventure.
In its early days, Delta slaves, and later sharecroppers, grew and picked the cotton; Memphis businessmen marketed and sold it. Likewise, the blues songs that grew organically in Mississippi fields became sheet music, and later recordings, in Memphis, inspiring Elvis Presley and other rock 'n' roll pioneers.
The connection between the city and its rural neighbors remains palpable — in the music, the food and the hospitality.
Stroll along Beale Street, the historic gathering place for early blues musicians that's now one of the state's biggest tourist attractions. Stax Museum, Sun Studio, the Memphis Rock 'n' Soul Museum, the Gibson Guitar Factory and Graceland further amplify the significance of the blues on American music.
Check out the sobering exhibits at the National Civil Rights Museum at the Lorraine Motel where Martin Luther King Jr. was shot.
3. Once out of Memphis, the terrain turns startlingly flat.
That's because it is a floodplain. There are no superhighways; most of the thoroughfares are pencil-straight two-lane blacktops.
Photo ops of old tumbledown shacks and other relics abound. Film crews love it, too. "The Help" was one of many movies filmed here, and the city of Greenwood still offers tours where the scenes were shot.
With so little traffic, the temptation to step on the gas pedal is great. But don't do it. You never know when an errant deer might pop into your headlights.
4. Big Muddy is the Delta's lifeblood.
A grassy levee forms a wall concealing the Mississippi River from the main thoroughfares, so you might forget it's there. But its impact is evident everywhere you turn. It has delivered the region abundance and washed it away in cataclysmic floods.
Steamboats brought ethnic influences from all over. Italian, Lebanese, Jewish and Chinese communities thrived. It also created a culture for gambling, which became legal in the early '90s and helped jump-start its economy. Neon-lit casinos transformed Tunica County, once so impoverished it was dubbed "America's Ethiopia," into "the Las Vegas of the South."
There are other ways to experience river culture that don't involve slot machines. On the Sunflower River in downtown Clarksdale, John Ruskey of Quapaw Canoe Company leads river expeditions in hand-carved boats.
5. Antebellum mansions are rarities.
Most of the stately plantation homes were destroyed by flood or fire and the ones that remain are largely abandoned.
Tourists seeking the white-columned grandeur of the mint julep set must keep driving until they reach Vicksburg, home of the National Military Park and a dozen or so grand old residences standing regally atop steep hills, immaculately restored for touring.
6. The blues are alive and well.
Much of the credit for the explosion in blues tourism goes to actor Morgan Freeman, a native son who still lives in the area and has sunk a portion of his fortune into local revitalization efforts.
In 2000, he and business partner Bill Luckett (who's also mayor of Clarksdale) started a fine dining restaurant called Madidi and later Ground Zero Blues Club in Clarksdale, the town most famous for cultivating blues talent. It was at the crossroads of Highways 61 and 49 in the center of town where Robert Johnson supposedly sold his soul to the devil in exchange for musical genius.
Roger Stolle, a longtime blues aficionado and music promoter from St. Louis, came here soon after Freeman's ventures gained national buzz. His Cat Head Delta Blues and Folk Art store has become a magnet for blues lovers the world over. Stolle is a tireless booster of all things Delta, responsible for starting the Juke Joint Festival and many other music events. On his website, www.cathead.biz, you'll find a detailed calendar of blues-related activities.
Though Madidi closed in 2012, the graffiti-covered former cotton grading warehouse that is now Ground Zero is still hopping and new restaurants and businesses keep popping up. While Ground Zero appeals to the masses (and has some great Southern food, too), blues experts like Stolle can direct you to the few remaining authentic juke joints, such as Red's Lounge a few blocks away.
Po' Monkey's, farmer Willie Seaberry's backwoods sharecropper shack closer to the Delta's center near Merigold, serves beer from a cooler and has a DJ that plays blues and old-school R&B. Plastered with posters and strung with Christmas lights, with a sea of stuffed monkeys hanging from the ceiling, it provides an ambience like no other.
No blues tour is complete without a stop at the state-of-the-art B.B. King Museum and Interpretive Center in Indianola, opened in 2008 to honor the blues legend's life, and the history-making events in the community where he grew up. Club Ebony, right around the corner, is the blues club where King got his start.
7. Deltans have their own style of dining.
Besides fried chicken and sweet tea, the flavors borrow heavily from New Orleans and Italy, where many of its residents can trace their roots.
But dining out in the Delta is just as much about the experience as the taste. Deltans love to surround themselves with hunt club taxidermy, vintage high school class portraits and old farm equipment painted and turned into art.
A love of good home-cooked food inspired Greenwood entrepreneur Fred Carl Jr. to invent a restaurant-quality home range that would become the Viking Range Corporation, his hometown's biggest business success story since the fall of cotton.
The Viking-owned Alluvian is a European-style boutique hotel anchored by a historic Italian restaurant, Giardina's, arguably the classiest restaurant in the Delta. Viking's flagship cooking school across the street sealed its reputation as a sophisticated foodie magnet. Carl has since sold Viking but remains invested in other local restaurant properties.
But long before Viking came to Greenwood, there was Lusco's, a former grocery store that's been serving fat steaks and butter sauce-drenched pompano since Prohibition days. Back then, planters came through the back door to eat, gamble and drink Papa Lusco's special brew in curtained rooms. The illegal hooch is gone, but the private curtained rooms with buzzers on the wall for summoning the wait staff remain. Nearby, the Crystal Grill has been drawing old-timers and newcomers alike for just as long with their Old South entrees and mile-high meringue pies.
Both Lusco's and the Crystal Grill rank near the top of most Southern food bucket list recommendations, as does Doe's Eat Place in Greenville, a legendary steakhouse in a proudly run-down old grocery store that's as famous for its tamales as its porterhouses.
8. The Delta has inspired writers and artists of all genres.
The region figures in the works of William Faulkner, Eudora Welty and a host of other Mississippi-born writers. Greenville in particular prides itself on its homegrown literary talent: William Alexander Percy, his nephew Walker Percy, who lived with him as a youth after his parents died; Shelby Foote, Hodding Carter, David Cohn, Angela Jackson, Ellen Douglas and Julia Reed.
Willie Morris was raised in Yazoo City and Tennessee Williams spent a chunk of his childhood in Clarksdale, where a Tennessee Williams Festival is held each year.
Several obscure but rewarding museums pay tribute to other notable Delta artists. Mama's Dream World museum in Belzoni shows "picture memories" of rural Delta life hand-stitched by folk artist Ethel Wright Mohamed, whose work has been displayed at the Smithsonian Institution. The Jim Henson Museum in Leland honors the Muppets creator, whose Sesame Street characters are based on the creatures he discovered on the banks of Deer Creek where he once played.
Merigold is home to the world-famous McCarty's Pottery started 60 years ago in an old mule barn.
9. Unique lodging enhances the Delta experience.
A night or two at the plush Alluvian in Greenwood is a luxurious treat. Other towns, especially Clarksdale, offer funkier accommodations that make you feel like you're sleeping in a museum.
The Riverside Hotel, set behind a broken Schlitz sign and a blues marker noting its history as the hospital where blues singer Bessie Smith died from injuries sustained in a car wreck, is homey, hospitable and filled with nostalgia.
The Shack Up Inn on the Hopson Plantation began as a few refurbished sharecroppers' shacks, and it now offers lodging in renovated cotton gin bins. An old commissary on the premises has been transformed into the Juke Joint Chapel where live music plays.
Newer options continue to push the eccentricity. The Squeezebox, a former downtown storefront, has just opened as a guest suite where the décor includes a gold-painted parking meter, a lamp with a zebra-patterned shade and a flute as a base and an X-ray table converted into a headboard with images of blues men.
10. Hot tamales are a can't-miss culinary icon.
Don't even think of leaving the Delta without trying a hot tamale!
Everybody loves these spicy, cigar-shaped cylinders of meat-filled cornmeal dough. They are sold in roadside kiosks, soul food cafes and expensive steak houses as appetizers, always with saltines and hot sauce.
For more on how these shuck-wrapped sensations earned their place in Delta culture,check out Eatocracy's take on tamales. Escort